HOME > Bali Fashion Necklaces > Beaded Necklaces Page 21 | Bali Fashion Bracelets | Fashion Earrings | Fashion Belts
Fashion Jewelry from Indonesia Handmade Jewellery Company. Fashion Accessories Costume Jewelry from Indonesia. Necklace with bone and beads. Handcrafted Indonesian Jewellery. Fashion accessories wholesale from Indonesia. Necklaces made of sea shells, beads and mother of pearl shells. Beaded necklaces jewelry wholesale from Bali.
Bali Fashion Accessories. You will find here many fashion accessories neckalces made in Bali. We use many kind of materials to make our necklaces and other fashion accessories including sea shells, resin, wood and glass. All handmade using very traditional way. Handmade by skill craftsmen with skill pass from generation to generation. We're wholesale only.
NP36 Wooden Beads Necklaces
NP39 Beads Necklaces with Wood
---
Bali Batik Fabrics
Batik Textiles from Bali
Batik Fabric Materials
Bali Textiles Batik
BatikSarong.Com owned by CV Maya. A manufacturer and exporter company for Bali Fashion Jewelry located in Indonesia. Bali jewelry made of beads combined with other natural materials such as mother of pearl shells, wooden beads, sea shells, stone, horn, bones and many more organic materials.

Need help ordering our fashion accessories and jewellery ?
Contact us now, we give prompt reply !
Contact us by ONLINE FORM
Ph.+6281353357458
Cel (62 81) 7973 1022 Skype: cvmaya

Visit our shop in Bali !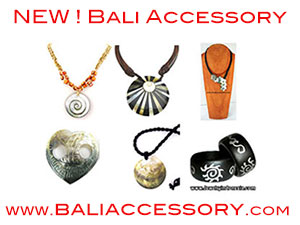 We're adding new Bali accessories regularly. Visit our sister site www.BaliAccessory.com for our latest addition of accessories and fashion jewelry made in Indonesia. Please remember that we're wholesale only. Minimum order apply. Contact us if you need more information.
Don't see Natural Body Jewelry or Fashion Accessories you want? Contact Us Now! We'll make it available
---
Wood Carvings Bali | Teak Wood Furniture | Natural Photo Album | Shell Crafts Bali | Dreamcatchers | Pareo Bali