This online store for sea shell costume jewelry fashion accessories owned CV Maya, a manufacturer exporter company of mother of pearl shell jewellery accessory in Indonesia. Also a mother pearl shell jewelry manufacturer. Indonesia located near New Zealand, Philippine, Thailand, China India. These countries also known for cheap costume jewelry fashion accessories. These country also produce mother of pearl shell. We're producer supplier of necklaces, chokers, bracelets, bangles other body adornments made of mother of pearl shell beads. Don't forget to visit www.Jewelryindonesia.com for more fashion accessories made in Indonesia. Fashion accessories such as necklaces, bracelets, chokers, earrings etc.
New jewelry! Bali silver jewelry. Silver choker with mother of pearl shell pendant. Bali sterling silver. Silver jewellery necklaces from Bali Indonesia. 925 Silver necklaces made in Bali Indonesia.
Product Code: SRP 6 - 1
Silver Choker with MOP Pendant
Click here to view much more Bali Silver Jewelry
---
BatikSarong.Com owned by CV Maya Tax id: 02.612.185.5-903.000. A manufacturer and exporter company for Bali Fashion Jewelry located in Indonesia. Bali jewelry made of beads combined with other natural materials such as mother of pearl shells, wooden beads, sea shells, stone and many more organic materials.
Women in Bali Indonesia working with sea shells and feather papua necklaces. Tribal boho ethnic accessories made in Indonesia. Browse our latest collection of tribal and ethnic home decors made in Indonesia. View our catalog of feather and shells fashion accessories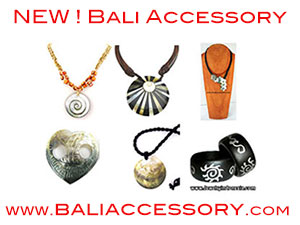 We're adding new Bali accessories regularly. Visit our sister site www.BaliAccessory.com for our latest addition of accessories and fashion jewelry made in Indonesia. Please remember that we're wholesale only. Minimum order apply. Contact us if you need more information.
Pearls come in a wide range of shapes, sizes, colors, and lusters can be found. These include cultured, round saltwater, elongated fresh water, mabe, Tahitian Black and South Sea pearls. These come in a range of natural colors from white, cream and gold, to grey, blue and black with hues of rose, lilac, and green. Different colors may be achieved through bleaching, dyeing or chemicals with heat or irradiation.
Mother Pearl Shell Necklaces Made in Bali Indonesia . Click to see
Pearls are judged by their size, shape, color, freedom from blemishes and lustre. It is worthwhile to buy a book about pearl jewelry and learning to evaluate these different characteristics before buying pearl jewelry. A pearl is soft and should be stored in a protective fabric pouch. Clean pearl jewellery with mild soap and water. Avoid household chemicals, hair sprays, cosmetics and perfume, as they will damage the pearl's luster. Don't use an ultrasonic or steam jewellry cleaner.
---
Bali Handicrafts | Bali Fashion Necklaces | Bali Furniture | Sea Shells Feather Accessories | Clothing from Bali