Solid Color Rayon Batik Sarong with Embroidery, Almost All Color Possible. Plain Color Sarongs and Pareo with Embroidery and Sequin Beads. Sarongs made in Indonesia. Bali Batik Sarongs

Embroidery sarong with silver thread beads. Almost any color possible.
With gold or silver thread. With or without beads (sequins).
Exchange Rate

Embroidery can be made with various motif such as butterfly, flower, fish etc.
Embroidery also available in various colors. Almost all color possible. This page only shows very small range. For more colors, please refer to your Pantone color book, or go to our PANTONE COLOR TABLE PAGE. We will try our best the be as close as possible. We will also send the color swatch (small piece of the sarong fabric) for your approval. Please provide your DHL International Account Number. Embroidered Batik Sarongs is here.
Solid Color Sarongs
Click to view beautiful color sarongs

More Solid Color Sarongs
Visit this sarongs page for more
More embroidery sarongs from Bali. Plain color made in Indonesia

Links to all embroidery sarongs from Indonesia
Bali Sarongs, Beaded Jewelry and Crafts Links : Links:
BALI SARONGS CATALOG
Batik Sarongs, Beachwear, Sarong Ties and Bali Beads Sandals Catalog
Mini Skirts, Batik Pantaloon Beach Wear, Beaded Footwear etc.
Place your order for our pareo from Bali on our sister site www.Pareo-Bali.com
Sarung goyor factory in Indonesia. Buy handmade sarong goyors direct from Indonesia. Contact us by email or WhatsApp for more information regarding our sarung goyor, also known as sarung tenun, macawis, izaar or futah. High quality handmade sarungs direct from factory.
Visit our web site pareo-bali.com to place your order for our sarongs. Visit and place your order.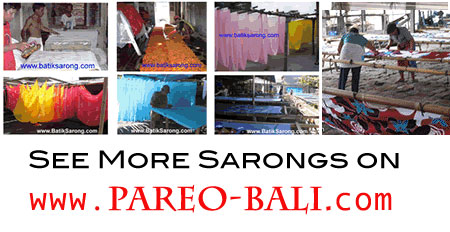 Batik Sarong | Beaded Purse | Bali Sarongs | Sarongs Indonesia | Sarongs Factory |

Contact Us | Pareo Bali | Bali Fashion Accessories
---
Bali Handicrafts | Bali Crafts | Sea Shell Crafts Bali | Teak Kitchenware | Bali Clothing