Bali sea shells jewelry . Need manufacturer company for costume jewelry? costume jewelry exporter & wholesaler?
We're manufacturer company & exporter of costume jewelry. Located in Indonesia. We manufacture & export various kind of costume jewellery. We sell wholesale many kind of jewelry & accessories made of mother of pearl shell, beads, wood, cowry shell, paua or abalone shells. Browse www.BatikSarong.com for cheap mother pearl shell necklaces. Don't forget to visit www.Jewelryindonesia.com for much more mother of pearl shell jewelry made in Bali Indonesia

Mother of pearl shell necklaces with beads. Beads jewelry from Bali. Pearl shell jewelry from Bali Indonesia. Bali pearl shell jewelry by CV Maya, a manufacturer company and also wholesaler of all kind of beads accessories and beads jewellery. We produce and export our beads accessory ourselves. We're not agent or broker. We have our own workers who make sea shells jewelry and sea shells accessories for us. To place an order for our sea shells fashion accessories and sea shells costume jewelry, please Email to Us
Please visit our Linktree page for Sarong Catalog or chat online using our social media. See also our latest sarong collection, Youtube Video and other important information.
---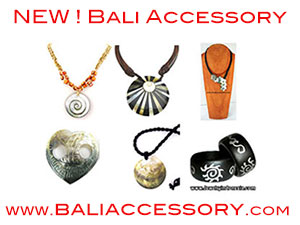 We're adding new Bali accessories regularly. Visit our sister site www.BaliAccessory.com for our latest addition of accessories and fashion jewelry made in Indonesia. Please remember that we're wholesale only. Minimum order apply. Contact us if you need more information.