Bali beads jewelry. Pearl shell necklaces beaded jewellery from Bali Indonesia. Beads necklaces with mother of pearl shell pendant. Made by our company CV Maya, a manufacturer of fashion accessories and costume jewelry. We're located in Yogyakarta and Bali. To order our bali beads jewelry, send your order in details to us We have many kind of bali beads jewelry. Please visit also www.Jewelryindonesia.com for more Bali beads jewellery.
BALI PEARL SHELLS JEWELRY PROMOTION. SPECIAL PRICE !!
BEADS AND PEARL SHELL NECKLACES. BEST SELLER CATALOG
Rtl = RETAIL . Minimum 50 necklaces. Whl = WHOLESALE. Minimum 100 necklaces.
Bali beads jewelry complete catalog. Beads jewelry from Bali by CV Maya, manufacturer company of costume jewellery made in Bali. Costume jewelry such as beads necklaces with pearl shell, capis shell jewelry, abalone necklaces, cowry shell necklaces, sea shell bracelets, pearl shell earrings, beaded earrings, etc. Please browse our complete catalog by using links below:
MORE Sea Shell Jewelry from Bali. Click here
Bali pearl shells jewelry. Jewelry made of beads with pearl shells pendant. Pearl shells accessories from Bali Indonesia. Accessory and jewelry made of mother of pearl shell. Are you looking for a company in Indonesia who produce and export various kind of fashion accessories made of sea shells ? CV Maya, our company is a manufacturer company for fashion accessories made of sea shells. We have many collection of shells jewellery. Necklaces, chokers, bracelets, anklets, earrings and body jewelry (body piercing jewellery). To contact us, please send your Email to Us. Don't forget to visit www.Jewelryindonesia.com for even more Bali shells necklaces, Bali shells accessories and jewellery. We're made to order only handcrafted jewelry.
Bali pearl shells jewelry with beads and natural materials. Material from the ocean of Indonesia. All jewelry handcrafted by our workers. We have a large collection of sea shell jewelry. Browse this site to find a lot of models for sea shells jewelry. These sea shells jewelry available for very reasonable price. Many under US$ 1. Visit www.jewelryindonesia.com for even more sea shell jewelry from Bali Indonesia. Jewelry and accessories made of sea shells combined with glass beads.
How to order our Bali pearl shells jewelry. To order our pearl shells jewellery is easy, simply type your order in details and send by Email to Us Tell us the product code, quantity wanted, colors etc. Don't forget to tell us about your business or company. Once we receive your email, we will reply with a proforma invoice with products pricing and shipping cost. Remember that all pricing on our web site based on FOB Bali or FOB Yogyakarta. Payment in bank transfer only. Sorry no credit card or letter of credit. For more information regarding ordering our sea shells jewelry and sea shells accessories, please Email to Us. We receive many inquiries everyday. We give response only to serious inquiry. Please be serious.
BatikSarong.Com owned by CV Maya Tax id: 02.612.185.5-903.000. A manufacturer and exporter company for Bali Fashion Jewelry located in Indonesia. Bali jewelry made of beads combined with other natural materials such as mother of pearl shells, wooden beads, sea shells, stone and many more organic materials.
Women in Bali Indonesia working with sea shells and feather papua necklaces. Tribal boho ethnic accessories made in Indonesia. Browse our latest collection of tribal and ethnic home decors made in Indonesia. View our catalog of feather and shells fashion accessories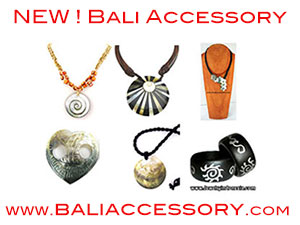 We're adding new Bali accessories regularly. Visit our sister site www.BaliAccessory.com for our latest addition of accessories and fashion jewelry made in Indonesia. Please remember that we're wholesale only. Minimum order apply. Contact us if you need more information.