Sea shell costume jewelry company in Bali Indonesia. Costume jewellery necklaces made of beads with sea shell pendant, mother of pearl shell pendant or MOP shell. All fashion accessories necklaces here comes in many colors. Buy fashion accessory and jewelry necklaces from factory or manufacturer company in Bali. Get quality pearl shell necklaces at low price from the producer and exporter.
Cheap costume jewelry from Bali Indonesia. Beads necklaces with mother of pearl shell pendant. Round pearl shell with beads necklaces. Beaded necklaces with mop shell pendant. Handcrafted costume jewellery made in Indonesia. Need manufacturer company of beads necklaces & other body jewelry in Indonesia? Searching for beads jewelry wholesale company in Bali Indonesia? sea shell costume jewelry company?. We have many costume jewelry.

---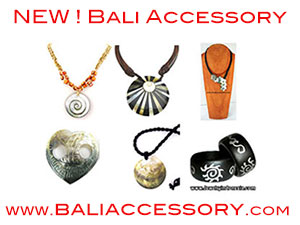 We're adding new Bali accessories regularly. Visit our sister site www.BaliAccessory.com for our latest addition of accessories and fashion jewelry made in Indonesia. Please remember that we're wholesale only. Minimum order apply. Contact us if you need more information.
Pearls are the gemstone of lovers, used in love potions for centuries in many countries such as Indonesia, Malaysia, India, China, Philiphine, Thailand & other Asian countries. Pearl symbolize purity and innocence and are perhaps the most widely appreciated and worn of all jewelery 'gemstones' . Pearls are a natural product (natural material). A beautiful pearl commences from a humble grain of sea sand. The grain of sand in a oyster's shell is an irritant. The oyster, to protect itself, covers the sea sand with a nacre coating which eventually becomes a pearl. Today, oysters are injected with a tiny sphere of natural material such as oyster shell particles. The oyster takes over and eventually produces a luminous cultured pearl.

Searching for handcrafted natural jewelry manufacturer company in Bali Java Indonesia ? contact us now
---
Bali Beads Necklaces | Natural Photo Album | Men Sarungs Indonesia | Bali Clothing