Fashion Jewelry Fashion Accessories from Indonesia Natural and organic Jewellery Company. We're manufacturer of fashion accessories in Bali Indonesia. If you need accessories and jewelry from Bali Indonesia.
Handcrafted bone necklaces from Bali Indonesia. Necklaces with white bone pendant. Bali bone jewelry and accessories. Balinese bone necklaces and jewellery. Made by skilfull bone crafts artists of Bali Island. Hand carved bone necklaces made in Indonesia. Necklace made of water buffalo bone. Water buffalo is NOT endanger animal. We have many more bone necklaces available. Many style such as celtic knot. You can also email us your design. Email Us to place an order
---
Bali Bone Body Piercing Jewellery. Please go to www.Jewelryindonesia.com for more bone piercing jewelry. This is our sister site. We're under the same company CV Maya, the accessories and jewelry manufacturer in Indonesia, fashion accessories export company. You can send order for batiksarong.com and order for jewelryindonesia.com in one email. No need to send two emails.
More exotic jewelry and accessories made in Bali. Organic ear plugs, wood earrings and bracelets.
Click image below to view our catalog of jewelry and accessories made in Bali Indonesia. Wooden Bracelets Made in Indonesia. Click to see wooden bangles and bracelets from Bali Indonesia
Wooden bracelets and bangles fashion accessory made in Indonesia
Fashion Accessories Factory Bali Indonesia. Bali Shells Jewelry and Bali Beads Necklaces :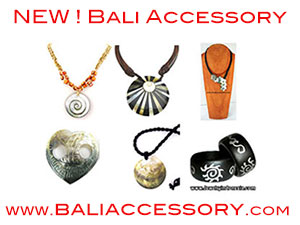 We're adding new Bali accessories regularly. Visit our sister site www.BaliAccessory.com for our latest addition of accessories and fashion jewelry made in Indonesia. Please remember that we're wholesale only. Minimum order apply. Contact us if you need more information.
---
Bali Handicrafts | Bali Fashion Necklaces | Bali Furniture | Sea Shells Feather Accessories | Clothing from Bali