Fashion Accessories & Costume Jewelry from Indonesia. Necklace with bone & beads. Handcrafted Indonesian Jewellery. Necklace with beads & sea shells from Indonesia. Beads Necklace with mother of pearl from Indonesia. Beads Necklace Made in Indonesia. Beads with seashells from Indonesia. Beaded Necklaces Made in Indonesia. Cheap Fashion Products.

We have wide range of fashion accessories. Other than necklaces, we are also wholesale and export various handbags, including round rattan bags from Bali Indonesia. Please browse our catalog of women bags, purse and handbags made of wide range of materials including natural rattan.
---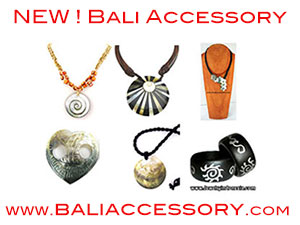 We're adding new Bali accessories regularly. Visit our sister site www.BaliAccessory.com for our latest addition of accessories and fashion jewelry made in Indonesia. Please remember that we're wholesale only. Minimum order apply. Contact us if you need more information.
Bali Handicrafts Company | Bali Beads Necklaces | Natural Photo Album | Bali Wood Carvings | Bali Clothing