Mandala Sarongs Bali
Buy mandala sarongs direct from factory in Indonesia. We are sarongs factory, producer of batik sarongs and pareo. We export many kind of sarongs including mandala sarongs from Bali Indonesia. Please browse our catalog of silk printed sarongs and mandala motif sarongs. Select which sarongs that interest you, also the quantity needed. We will compose a proforma invoice for you. Please also provide us with a brief information regarding your company or business.
We have many sarongs available for ordering. Simply send us email with your request and a brief introduction regarding you and your company. We will reply with our catalog of all sarongs with wholesale pricing. Please remember to provide us an introduction about your business. We will reply only to serious inquiry. Please try to use your official company email address and not free email account. In short to order our sarongs you need to send us email with company introduction we will then provide you with catalog.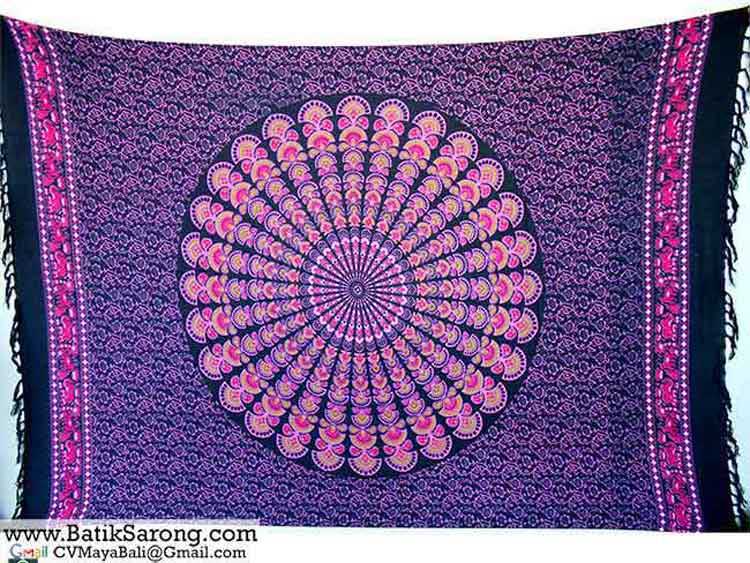 Sarongs mandala from Bali Indonesia. Handmade rayon sarongs with silkscreen printed motif. Available in wide range of color. Size approximately 180cm to 185cm in length and 115cm in wide, including fringes. We also provide sarongs without fringe. Weight of each sarongs approximately 0.3 Kg each. We pack our sarongs using plastic bag and carton box. Minimum order is 100 pieces sarongs per color per motif. Order for less than 100pcs will be ship assorted or mix motif and color.
Please email us for pricing and other information regarding ordering our sarongs.
See Sarongs Factory