Fashion Accessories & Costume Jewelry from Indonesia
Necklace with bone pendant. Handcrafted Indonesian Jewellery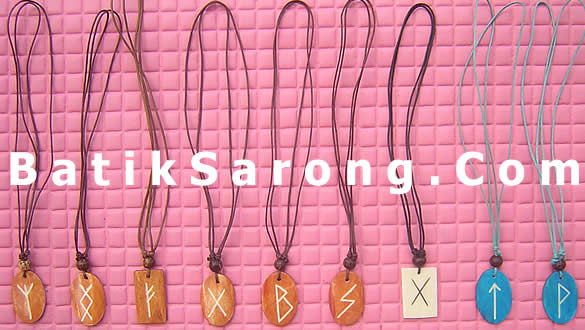 CLICK TO ENLARGE !
Learn more about bone necklace from Icelandic tribe culture: The ancient philosophy of runes bone necklace is believed to have originated back in the dark ages by the icelandic tribes. Bone necklaces runes have always been said to have magical meanings. The symbols were used as protective devices and to ward off evil. It has been said that by calling on the appropriate Rune, one can make contact with the force in nature which each symbol represents. The names of each runes is shown below:
The bone necklace runes comes in three colors; brown, blue & white
When ordering our bone necklaces, please clearly state your selection
CLICK TO ENLARGE !
To make our runes bone necklaces more interesting, we include a paper tag with explanation &
meanings of each symbol to each necklace.
CLICK TO ENLARGE !
A paper tag will be included with each necklace. It's explain the philosophy of runes
Good News! A matching bracelet also available!
Carved Bone Rune Bracelet Made in Indonesia
Product Code: BrRune (CLICK TO ENLARGE !)
Carved Bone Rune Bracelet
Bone bracelet with all rune symbol engraved on each side! Very cool !
Bali Bone Jewelry and Bali Bone Body Piercing Jewelry. Fashion accessories and costume jewelry made of organic materials such as buffalo bones and buffalo horn. Handcarved by Balinese bone craftsmen on the island of Bali, Indonesia. Good quality bone jewelry made in Indonesia as seen in tattoo studios around the world. Please view our online catalog (on line store) for Bali Bone Jewelry and Organic Body Piercing Jewelry from Bali. Please go to www.Jewelryindonesia.com for bone piercing jewelry. This is our sister site. We're under the same company CV Maya, body jewelry manufacturer in Indonesia. You can send order for batiksarong.com and order for jewelryindonesia.com in one email. No need to send two emails.
Sea Shells Necklace Made in Indonesia. A very long necklace made of beads and sea shells. This sea shells necklace available in various colors. Not only white as shown here.
CLICK TO ENLARGE !
This is a necklace made of sea shells & white glass beads.
Beatiful and elegand sea shell jewelry from Bali Indonesia
---
Jewellery Company in Bali
Bali Jewelry Exports
Beads from Bali Indonesia
Beaded Jewelries from Bali
Beaded Jewelry Factory Indonesia
Bali Beads Jewelry Company
Carved Bone Jewelry Made in Indonesia Manufacturer
Bone Accessories from Bali Indonesia Exports Company
Engraved Bone Necklaces from Indonesia Factory Bali
Buffalo Bone Necklaces Jewellery
Bone Bracelets Bone Necklaces
Indonesia Bali Company Factory
Wholesale Export Cheap Imports
Hawaiian Jewelry made of natural beads and pearl shells. Fashion accessories made of all kind of sea shells such as cowry shells, abalone shells and paua shells. All beads jewelry and accessories made in Indonesia on the island of Bali. Made by our company CV Maya, the manufacturer wholesaler and exporter of fashion products.
---
Bali Handicrafts | Bali Fashion Necklaces | Bali Furniture | Sea Shells Feather Accessories | Clothing from Bali