Beads ands Mother Pearl Shell Accessories from Indonesia Sea Shell Jewelry . Bali Costume Jewellery. Mother Of Pearl Shell Fashion Accessories Products. Sea Shell Jewelry Manufacturer Exporter Supplier Wholesaler Company from Bali Indonesia
On Line Catalog for Bracelets and Bangles Made in Indonesia. Bracelets made of organic or natural materials such as tree beads, wood, horn, bone or stone. Other than bracelets or bangles made of natural materials, also available bracelets made of resin. All handcrafted in Indonesia. Our bracelets catalog available on two sites: www.BatikSarong.com and www.Jewelryindonesia.com. Both sites owned by our company CV Maya, a manufacturer and exporter company for fashion products made in Indonesia.

BEST PRICE GUARANTEE ! If you see the same item on other web site with lower price than price listed here. PLEASE contact us. We'll try to give you lower price or at least give you the same price. We're manufacturer and exporter company. We don't simply buy from other company and sell it again. Thank you for your cooperation.
There're currently 5 pages of bracelets and bangles catalogs on www.BatikSarong.com
and 9 pages on www.Jewelryindonesia.com. More will added soon...
Remember that both web sites under the same company CV Maya.
Combined order is possible. Thank you for your attention.
Don't forget also to download our bracelets and bangles catalog in Zip Files. Email us if you have problem downloading these files
BRACELETS CATALOG 1 (zip file.624kb). BRACELETS CATALOG 2 (zip file.993kb)
Mandala Sarongs from Bali Indonesia
Links below takes you to bracelets and bangles catalog on www.BatikSarong.com
Links below takes you to bracelets and bangles catalog on www.Jewelryindonesia.com
Catalog for Pearl Shell and Beads Necklaces on www.BatikSarong.com
---
BatikSarong.Com owned by CV Maya Tax id: 02.612.185.5-903.000. A manufacturer and exporter company for Bali Fashion Jewelry located in Indonesia. Bali jewelry made of beads combined with other natural materials such as mother of pearl shells, wooden beads, sea shells, stone and many more organic materials.
Women in Bali Indonesia working with sea shells and feather papua necklaces. Tribal boho ethnic accessories made in Indonesia. Browse our latest collection of tribal and ethnic home decors made in Indonesia. View our catalog of feather and shells fashion accessories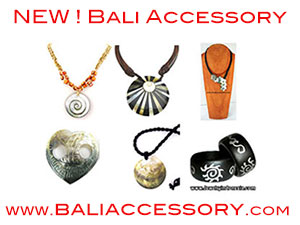 We're adding new Bali accessories regularly. Visit our sister site www.BaliAccessory.com for our latest addition of accessories and fashion jewelry made in Indonesia. Please remember that we're wholesale only. Minimum order apply. Contact us if you need more information.