Beaded Bags Purse Bali Indonesia
Beaded purse from Bali Indonesia. Women bags fashion accessories made of satin fabric and tiny glass beads. Handmade in Indonesia by craftsmen who has years of experience in making various kind of beaded bags and other fashion accessories for women. Browse our catalog of beaded purse and wallets on our sister site www.BaliFurnish.com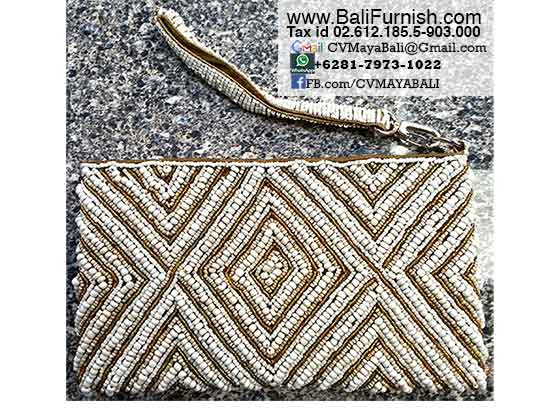 Browse our catalog and see wide range of beaded purse made in Indonesia in almost any color. These beaded bags is mostly handmade and take many hours of working. There are many people involved during the process in making each and every piece of these beaded handbags. Including men and women. Your order for our beaded bags and accessories help us to support these village people. No need for them to go to big cities or even abroad to find work.
We are wholesale company and doing business in bulk quantity. Minimum order apply. To order our beaded bags, send us email using our on line inquiry form. Please remember to mention the bag or purse item number, preferred color and quantity. We also need to know your complete address and shipping port to calculate shipping charge. You are welcome to combined order for our beaded purse with other fashion accessories and handicrafts you could find on www.Balifurnish.com
To order our sarongs, please use links below. See various kinds sarongs and pareo made in Indonesia. We have wide range of sarongs including the hand painted and tie dye. Don't forget to visit our favorite stamp sarongs. Remember all sarongs and pareos here is made to order. Production takes weeks, better place your order in advance. If you need stock for immediate delivery, we have it. Email us for more information on buying our sarongs stock.
Sarongs Pareo from Bali Indonesia Wholesale
Painted sarongs pareo Bali Indonesia
Cheap Bali sarongs as low as US$ 1.45*

Hand stamp batik sarongs from Bali.
More Costume Jewellery made in Indonesia on www.BatikSarong.com
More Costume Jewellery made in Indonesia on www.Jewelryindonesia.com