Mother Pearl Shell Jewelry Costume Jeweleries Exporter Company. We're located in Bali Indonesia with showroom and shop in Bali Indonesia. Visiting Bali ? Please visit also our jewelry and accessory shop in Bali. Bali Beads Jewellery Shop
Beads Necklaces with Mother of Pearl Shell Pendant. Jewelry & fashion accessories Made in Indonesia. Beaded jewellery with pearl shell pendant. Costume jewelry made in Bali Indonesia. Bali beads necklace company & manufacturer. We have many pearl shell necklaces & pearl shell jewelry. Please visit www.Jewelryindonesia.com for more mop shell necklaces. To order our jewelry and accessories, please email your order to us. Tell us the product code, quantity, colors & your complete address.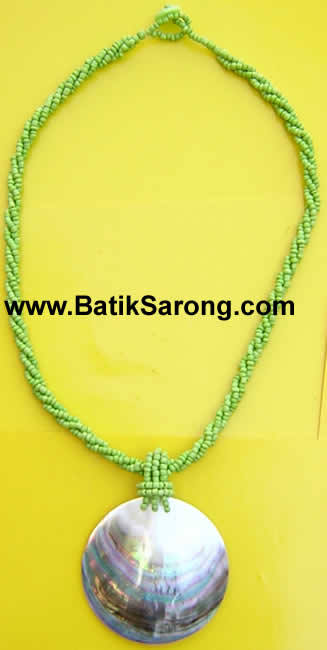 Necklace Code : NP 19-9 GREEN
Beads Necklace with Mother Pearl Shell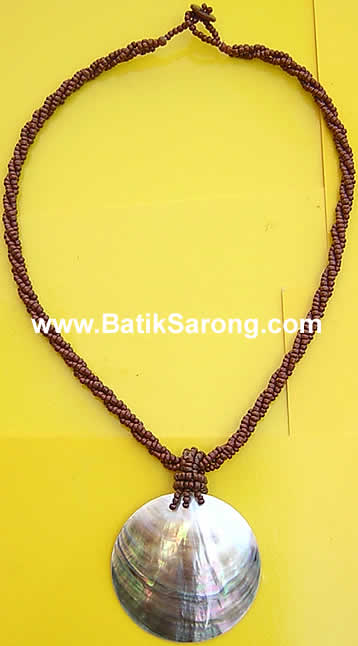 Necklace Code: NP19-9 BROWN
Beads Necklace with Mother Pearl Shell
Necklace Code: NP19-9 WHITE
Beaded Necklace with Mother Pearl Shell
Bali Beads Necklaces Color Swatch
Bali batiks fabrics from batik factory in Indonesia. Buy batik fabrics quilting direct from batik factory in Java Indonesia. Handmade batik quilt kits fat quarters, layer cake stacks, jelly roll strips and charm squares. Java batiks fabrics hand dyed in batik factory in Java Indonesia. We produce and export batik fabrics by yards, fat quarter bundles and precut fabrics. If you need batik textile direct from factory in Indonesia. Please contact us. View our wide range of cotton batik fabrics handmade in Bali and Java Indonesia.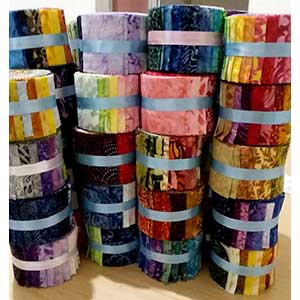 Sheer Cardigans Factory Bali Indonesia. Summer Cardigan Sweaters from Bali Indonesia. Sheer Shrug Factory. Lightweight Knitting Cardigans Made in Indonesia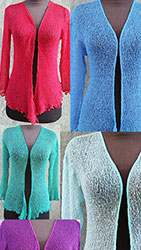 Plus size ruffle shrug with sheer and elastic fabric. Wide range of colours available. Use your own brand. Buy direct from factory in Bali Indonesia. Bolero wholesale. Tie-front shrug for women. Summer clothing. Wholesale only, factory direct. To order, send us email. Fill our inquiry form or send email directly to our Gmail address. See photo for our email address. We need to know your order quantity to calculate shipping. We also need to know your shipping port. Door to door shipment by express courier or post office also available.
Sarong Factory in Bali Indonesia
Mini Skirts, Batik Pantaloon Beachwear, Beaded Footwear etc.
See more Pareo from Bali and Bali Accessories.
Beach Sarong Pareo
Bali Batik Sarongs
Batik Ponco Tops
Bali Ponco Cloths

Beaded Bags Bali
Bali Women Bags
Plus Size Poncho
Plus Size Clothing
Batik Pants
Bali Batik Pants
Sarung Tenun Indonesia
Man Sarong Indonesia
Handpainted Sarongsfrom Bali Indonesia
Scarves Shawls
Cotton Scarves

Woven Footwear
Sandals and Slippers
Bali Beads Sandals
Sandals and Shoes
Batik Sarong | Beaded Purse | Bali Sarongs | Sarongs Indonesia | Sarongs Factory | Contact Us | Pareo Bali | New Bali Sarongs
FASHION ACCESSORIES MANUFACTURER COMPANY
Fashion accessories from Bali Indonesia. Visit our Facebook page Bali Accessory and Instagram page Bali Accessory to view our latest catalog of costume jewellery and fashion accessories made in Indonesia. We have wide range of jewelry and accessories including necklaces, bracelets, rings and earrings. We also have fashion accessories such as women purses and home decorations such as dream catchers, wall decors and other Indonesian handicrafts. Visit our site www.BaliAccessory.com to place your order for our Bali Accessories. Please visit our Linktree page for Sarong Catalog or chat online using our social media. See also our latest sarong collection, Youtube Video and other important information.
---
Bali Handicrafts | Bali Fashion Necklaces | Bali Furniture | Sea Shells Feather Accessories | Clothing from Bali