Glass Beads Necklace with Cowry Shells
by BatikSarong.Com Indonesia Fashion Accessories Manufacturer
Beaded necklace with cowry shells. The color of the beads available in many choices such as white, red, green, orange, blue, pink, beige, turqouise and many more. This page show you the necklace NP22-3 in black beads. Remember that this necklace also available for you to order in other colors. To order this necklace in red beads, simply state "NP22-3 RED" To order this necklace in white beads, state "NP22-3 WHITE" and so on... Email to Us for info on ordering our accessories. Please visit www.Jewelryindonesia.com for more sea shell necklaces made in Indonesia
Necklace Code: Necklace-p22-3 BLACK
Beads Necklace with Cowry Shells (also spelled cowrie shells)
TO ORDER THIS NECKLACE WITH WHITE BEADS, STATE "NP22-3 WHITE"
TO ORDER THIS NECKLACE WITH RED BEADS, STATE "NP22-3 RED" and so on...
We have a special page on our site, dedicated to our love to cowry shells. Please visit our cowry shell necklaces page by clicking the image below. Click and you will find many beaded necklaces with cowrie shells. Cheap price and good quality. Very popular. Must buy for surf shops or sufs accessories store owner. Wholesale only. Made to order.
Necklace Code: NP37-6
Cowrie Shell Necklace

Necklace Code: NP37-7
Cowry Shell Necklace
Links to all jewelry pages on page 22 catalog:
Batik Sarong | Beaded Purse | Bali Sarongs | Sarongs Indonesia | Sarongs Factory | Contact Us | Pareo Bali | New Bali Sarongs
Rattan bags from Bali Indonesia. Handmade by craftsmen in Indonesia. Round rattan bags wholesale. Rattan bags combined with ata grass and leather straps. Very popular among ladies and schoolgirls. Rattan bags, purse and handbags, very unique and one of a kind. Each bags here are made by traditional craftsmen and women with years experience in producing handbags for export. Are you looking to import these rattan bags from Indonesia ? contact our company CV MAYA. We are able to supply you with quality rattan bags in bulk quantity and competitive price. Chat with us on our social media, go to Batik Sarong Linktree page.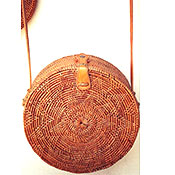 Fashion accessories from Bali Indonesia. Visit our Facebook page Bali Accessory and Instagram page Bali Accessory to view our latest catalog of costume jewellery and fashion accessories made in Indonesia. We have wide range of jewelry and accessories including necklaces, bracelets, rings and earrings. We also have fashion accessories such as women purses and home decorations such as dream catchers, wall decors and other Indonesian handicrafts. Visit our site www.BaliAccessory.com to place your order for our Bali Accessories. Please visit our Linktree page for Sarong Catalog or chat online using our social media. See also our latest sarong collection, Youtube Video and other important information.
---
Bali Handicrafts | Bali Fashion Necklaces | Bali Furniture | Sea Shells Feather Accessories | Clothing from Bali