Sea Shells, Wood Natural Beads Bracelets Jewelry from Indonesia. These is strech bracelets made of sea shells, tree beads, coconut wood & other organic/natural materials. All bracelets here handcrafted in Indonesia.
This bracelet below is a must buy for you. Very beautiful ! must buy !
This is a very good quality bracelet. Made of sea shells known as "binga shell". Sea shells very similar to mother of pearl shell. This seashells attached on resin with elastic cord. You must consider adding this seashell bracelet to your order. A fast seller to your fashion accessories & body jewelry shop. Sample available.
Need more bracelets made in Indonesia ? Then you must download our bracelets catalog
BRACELETS CATALOG 1 (zip file.624kb)
BRACELETS CATALOG 2 (zip file.993kb)
(Right Click Link Above & Save Target As ...)
Bracelets Catalog on BatikSarong.Com
More Cheap Bracelets from Bali
Added Soon...
Bracelets Catalog on Jewelryindonesia.Com
Beads and Pearl Shell Necklaces Catalog Made in Indonesia
Fashion Belts from Bali Indonesia
Beaded Belts Made in Indonesia

Beads and Sea Shells Belts
Fashion Belts for Ladies
Organic Body Jewelry from Bali
Bali Bone and Horn Plugs

Buffalo Bone and Buffalo Horn Body Piercing Jewellery
Bali Wood Jewellery
Wood Earrings Made in Indonesia
Sheer Cardigans Factory Bali Indonesia. Summer Cardigan Sweaters from Bali Indonesia. Sheer Shrug Factory. Lightweight Knitting Cardigans Made in Indonesia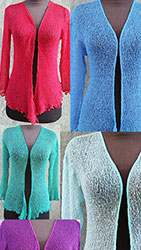 Plus size ruffle shrug with sheer and elastic fabric. Wide range of colours available. Use your own brand. Buy direct from factory in Bali Indonesia. Bolero wholesale. Tie-front shrug for women. Summer clothing. Wholesale only, factory direct. To order, send us email. Fill our inquiry form or send email directly to our Gmail address. See photo for our email address. We need to know your order quantity to calculate shipping. We also need to know your shipping port. Door to door shipment by express courier or post office also available.
Sarong Factory in Bali Indonesia
Mini Skirts, Batik Pantaloon Beachwear, Beaded Footwear etc.
See more Pareo from Bali and Bali Accessories.
Handwoven recycled plastic tote bags from Indonesia. Woman shopping bags handmade using plastic strapping bands made from recycled plastic bottles. Kago bags or handmade tote bags and baskets. Durable and beautiful, made of various colors of recycled plastic. Fashionable handmade woven tote, made of recycled plastic. Direct from the factory in Indonesia. Produce and export woven tote bags worldwide. Especially made as multi purpose bag for every day. Made with recycled plastic by skill woven bag craftswomen of Indonesia.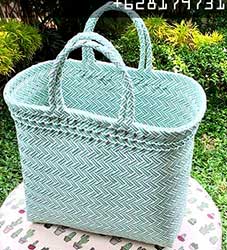 BatikSarong.Com owned by CV Maya Tax id: 02.612.185.5-903.000. A manufacturer and exporter company for Bali Fashion Jewelry located in Indonesia. Bali jewelry made of beads combined with other natural materials such as mother of pearl shells, wooden beads, sea shells, stone and many more organic materials.
Women in Bali Indonesia working with sea shells and feather papua necklaces. Tribal boho ethnic accessories made in Indonesia. Browse our latest collection of tribal and ethnic home decors made in Indonesia. View our catalog of feather and shells fashion accessories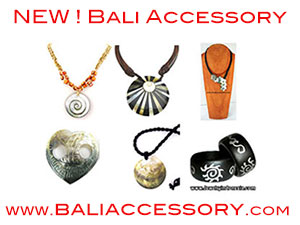 We're adding new Bali accessories regularly. Visit our sister site www.BaliAccessory.com for our latest addition of accessories and fashion jewelry made in Indonesia. Please remember that we're wholesale only. Minimum order apply. Contact us if you need more information.
---
Bali Handicrafts | Bali Fashion Necklaces | Bali Furniture | Sea Shells Feather Accessories | Clothing from Bali