Fashion Accessory Products from Indonesia
Indonesian Fashion Accessories Products Wooden Bracelets Made in Indonesia
Wooden Bangle Cool Bracelets Made of Wood
Jewelry & Accessories Products of Indonesia
Wooden Bangles Made in Indonesia
These wooden bangles one of our best selling products for years. Very popular. Must buy. Don't forget to order this !!!
We're wholesale company. Minimum order apply. Low price low minimum. Email Us for ordering info. Please include a brief info about your company/business, complete address & ph/fax number. We give response only to serious inquiry. All products made to order. Please order in advance.
We have more wooden bangles available. Please visit www.Jewelryindonesia.com for our latest collection.

If you interested in buying this wooden bangle in large quantity, please contact us. We're able to provide you with very good price. Better than price listed here.

Wooden bangle made of coconut or sono wood.
Coconut wood bangle made in Indonesia


Bangle Code: Ji Br P9-7
Wood Bangle from Bali
Click for more ...
Bangle Code: Ji Br P9-7
Wood Bangle from Bali
Wide Wood Bangle
Color Glass Beads Bracelets Made in Indonesia
Glass Beads Bracelets Made in Indonesia. Comes in many colors.
If your favorit color is not shown here, please contact us. We'll make it available
Matching Beads Necklaces and Beads Earrings also available. Beads jewelry from Bali Indonesia
Beads earrings with silver wire
Go to www.Jewelryindonesia.com
The beads available in various colors
Beads accessories made in Indonesia
Beads jewelry factory in Bali
Bracelets Catalog on BatikSarong.Com
More Cheap Bracelets from Bali
Added Soon...
Bracelets Catalog on Jewelryindonesia.Com
Beads and Pearl Shell Necklaces Catalog Made in Indonesia
Fashion Belts from Bali Indonesia
Beaded Belts Made in Indonesia

Beads and Sea Shells Belts
Fashion Belts for Ladies
Organic Body Jewelry from Bali
Bali Bone and Horn Plugs

Buffalo Bone and Buffalo Horn Body Piercing Jewellery
Bali Wood Jewellery
Wood Earrings Made in Indonesia
Beaded Jewelry Manufacturer Bali Indonesia
Batik Sarongs, Beachwear, Sarong Ties and Bali Beads Sandals Catalog
Mini Skirts, Batik Pantaloon Beach Wear, Beaded Footwear etc.
Handwoven recycled plastic tote bags from Indonesia. Woman shopping bags handmade using plastic strapping bands made from recycled plastic bottles. Kago bags or handmade tote bags and baskets. Durable and beautiful, made of various colors of recycled plastic. Fashionable handmade woven tote, made of recycled plastic. Direct from the factory in Indonesia. Produce and export woven tote bags worldwide. Especially made as multi purpose bag for every day. Made with recycled plastic by skill woven bag craftswomen of Indonesia.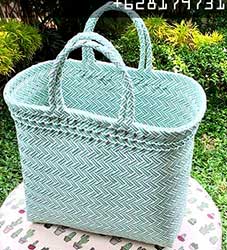 Don't see Natural Body Jewelry or Fashion Accessories you want? Contact Us Now! We'll make it available
---
Bali Handicrafts | Bali Fashion Necklaces | Bali Furniture | Sea Shells Feather Accessories | Clothing from Bali