Half Sarongs Bali Pareo Solid Color Sarong Skirts
Sarongs from Bali Indonesia. Made of 100%rayon fabric. Made by CV MAYA, batik garment manufacturer company in Denpasar, near Kuta. These are beachwear to wear on the beach or swimmping pool as cover up. Women dresses made of batik fabric. Available in wide range of colors. Please take a look our online pantone color page. You could choose which color you need, simply provide us with color number, we will make it for you.
Bali Sarongs wholesale. Wide range of color available. Not only mini sarongs as shown here. We have complete range of colors. Please remember to specify the color you need. It will be better if you send us by couirer company your color swatch. Send us the fabric for us to copy the color. We will try our best to match your fabric color.
Please browse our catalog of monocolor half sarongs. These are half pareo with monocolor motif. Cheap price and good quality. Very popular.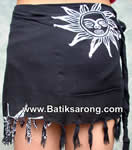 See more sarongs from bali is here:
Sarongs Pareo from Bali Indonesia Wholesale