This is beads necklace with resin and pearl shell pendant. Necklace made of beads, coconut wood beads and mother pearl shell. Beads jewelry made in Bali Indonesia. The beads comes in various colors such as black, pink, turquoise, orange, blue and many more.
Necklace Code: Necklace NP6-2 WHITE
Beads Necklace with Pearl Shell and Resin Pendant.
Remember that this necklace also available in other colors such as black, blue, orange, pink etc.
To order this necklace with black beads, state "NECKLACE NP6-2 BLACK"
To order this necklace with pink beads, state "NECKLACE NP6-2 PINK" and so on...
Necklace Code: Necklace NP6-2 COCO
Coco Beads Necklace with Pearl Shell and Resin Pendant.
This necklace use coco shells instead of glass beads. The product code for this necklace is "Necklace NP6-2 COCO"
PLEASE WRITE THE CORRECT CODE WHEN ORDERING OUR JEWELRY AND ACCESSORIES
more beads necklaces from Bali, visit www.Jewelryindonesia.com
Go to Bali Fashion Accessories and Costume Jewelry Page 6
Sarongs Factory in Bali Indonesia
Mini Skirts, Batik Pantaloon Beachwear, Beaded Footwear etc.
See more Pareo from Bali and Bali Accessories.
Handwoven recycled plastic tote bags from Indonesia. Woman shopping bags handmade using plastic strapping bands made from recycled plastic bottles. Kago bags or handmade tote bags and baskets. Durable and beautiful, made of various colors of recycled plastic. Fashionable handmade woven tote, made of recycled plastic. Direct from the factory in Indonesia. Produce and export woven tote bags worldwide. Especially made as multi purpose bag for every day. Made with recycled plastic by skill woven bag craftswomen of Indonesia.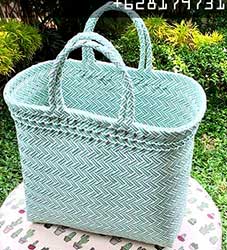 Batik Sarong | Beaded Purse | Bali Sarongs | Sarongs Indonesia | Sarongs Factory |

Contact Us | Pareo Bali | New Bali Sarongs
BatikSarong.Com owned by CV Maya Tax id: 02.612.185.5-903.000. A manufacturer and exporter company for Bali Fashion Jewelry located in Indonesia. Bali jewelry made of beads combined with other natural materials such as mother of pearl shells, wooden beads, sea shells, stone and many more organic materials.
Women in Bali Indonesia working with sea shells and feather papua necklaces. Tribal boho ethnic accessories made in Indonesia. Browse our latest collection of tribal and ethnic home decors made in Indonesia. View our catalog of feather and shells fashion accessories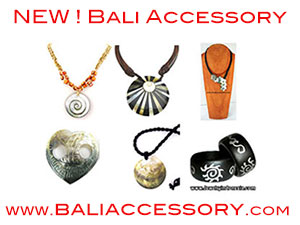 We're adding new Bali accessories regularly. Visit our sister site www.BaliAccessory.com for our latest addition of accessories and fashion jewelry made in Indonesia. Please remember that we're wholesale only. Minimum order apply. Contact us if you need more information.
---
Bali Handicrafts | Bali Fashion Necklaces | Bali Furniture | Sea Shells Feather Accessories | Clothing from Bali