---
Mother of pearl shell necklaces with palm wood. Necklace with pearl shell from Bali Indonesia. Mother pearl shell fashion accessories and costume jewellery. MOP shell jewellery made in Indonesia. This necklace made of pearl shell taken from south sea pearl companies on the east part of Indonesia. On the island such as Lombok, Sumbawa, Ambon & Timor. Most of pearl shell necklaces we sell made with pearl shell taken from this region. A region well known as the main producer of southsea pearls. To order our pearl shell necklace is easy, simply send Email to Us. Tell us the product code, quantity wanted, colors and your complete address. A brief information regarding your business and your company is appreciated. We receive many requests to buy our jewellery and accessory products on daily basis. We give response only to serious importer. Please be serious! Do not contact us unless you really interested in ordering our shell fashion accessories and shell costume jewelry. We have many Bali fashion accessories, please visit www.Jewelryindonesia.com for much more fashion accessory.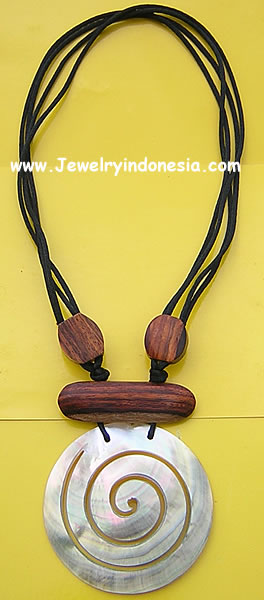 Necklace Code: Necklace NP6-5
Pearl shell Necklace with Wood
The necklace 53 also available with round plain mother of pearl shell pendant
Necklace Code: Necklace NP6-5 RD
Pearl shell Necklace with Wood
Need more style for the pearl shell pendant? We have many! Please visit our pearl shell pendants catalog. Simply click images below and you will find a lot of pearl shell pendant to use for necklace 53. Many shapes and style for the mop shell pendant. Round, triangle, rectangular, heart etc.
Wholesale only. Minimum order apply. Made to order. Please order our pearl shell accessories, jewelry and other fashion products at least two weeks in advance.
Batik Sarong | Beaded Purse | Bali Sarongs | Sarongs Indonesia | Sarongs Factory |

Contact Us | Pareo Bali | New Bali Sarongs
Don't see Beach Sarong or Accessories Products you want? Contact Us Now! We'll make it available
---
Bali Handicrafts | Bali Fashion Necklaces | Bali Furniture | Sea Shells Feather Accessories | Clothing from Bali