Bob Marley Sarongs from Bali Indonesia. online catalog of rasta sarongs and jamaicans sarongs. Silk screen print sarongs with bob marley or Jamaican motifs. All by CV MAYA, sarongs manufacturer in Indonesia. Producer manufacturer and exporter of sarongs.
Rasta Sarongs factory Bali. CV Maya produce and export all kind of rayon sarongs including the solid color beach sarong with sea shells. This is plain sarongs with sea shells for the fringe. Sarongs made in Indonesia direct from sarongs company in Bali Indonesia. If you need sarongs supplier and sarongs wholesaler in Bali Indonesia, please contact us.
Links to all Bob Marley sarongs from Indonesia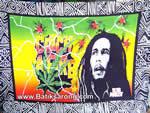 Plain Sarong with Cowry Shells. Batik Pareo with Cowries Shells
Batik Sarongs with Sea Shells. Sarongs Made in Indonesia Looking for batik garment manufacturer ? batik manufacturer company?
Bali Sarongs, Beaded Jewelry and Crafts Links : Links:
Premium quality Polynesian Sarongs from Bali Indonesia. Rayon fabric beach sarongs with tropical flowers motifs to use as beach wears & cover ups. Bright colors and soft fabric, almost as smooth as silk. Very popular in Hawaii, New Zealand, Samoa, Tonga, Fiji, French Polynesia, Cook Islands Niue, Tokelau, and Tuvalu, among others. Beach sarongs with popular flowers such as hibiscus, plumeria, tiare or orchids direct from factory in Bali and Java Indonesia. Buy bulk quantity sarongs from us and enjoy factory direct pricing.
BatikSarong.Com is a batik manufacturer company located in Indonesia. Are you beach wear apparel fashion distributor looking for batik textile, batik sarongs, batik pareos, batik garment made in Java Indonesia? You've come to the right place!
Handwoven recycled plastic tote bags from Indonesia. Woman shopping bags handmade using plastic strapping bands made from recycled plastic bottles. Kago bags or handmade tote bags and baskets. Durable and beautiful, made of various colors of recycled plastic. Fashionable handmade woven tote, made of recycled plastic. Direct from the factory in Indonesia. Produce and export woven tote bags worldwide. Especially made as multi purpose bag for every day. Made with recycled plastic by skill woven bag craftswomen of Indonesia.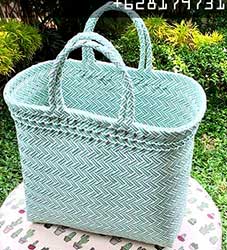 Batik Sarong | Beaded Purse | Bali Sarongs | Sarongs Indonesia | Sarongs Factory | Contact Us | New Bali Sarongs
---
Bali Handicrafts Company | Bali Beads Necklaces | Natural Photo Album from Bali | Men Sarungs Indonesia | Batik Clothing Company