Bob marley sarong Indonesia factory. Buy bob marley sarongs from the factory in Bali Indonesia. Browse our catalog of bob marley sarongs. Rayon fabric sarongs with bob marley print. Silk screen printed sarongs made in Indonesia by the sarongs producer. We're manufacturer and exporter company of printed sarongs and other batik sarongs. We're wholesaler and supplier in Denpasar Bali near Kuta. We're producer and also exporter company. Buy bob marley sarongs from us, we're also able to handle shipping from our factory to your shipping port.
Handpainted Batiked Sarongs from Indonesia by CV MAYA, sarongs manufacturer in Indonesia. Visit our shop or sarongs factory in Bali. View more Pareo Bali, please visit our sister site www.Pareo-Bali.com
Links to all Bob Marley sarongs from Indonesia
Bob Marley Sarongs Page 1
Bob Marley Sarongs Page 2
Links to all tie dye sarongs from Indonesia
Tie Dye Shirts from Bali Indonesia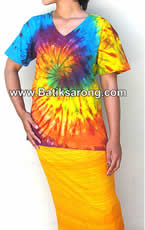 Tie dye tshirts from Bali Indonesia. Browse our catalog of colorful and vibrant hand dyed t-shirts.
Cheap batik tie dye t-shirts from Bali Indonesia.
Batik Pareo Sarongs factory from Bali CV MAYA, sarongs manufacturer in Indonesia
Visit our shop or sarongs factory in BaliPh.+6281353357458