Bob marley sarongs from Bali Indonesia. Catalog of silk screen printed sarongs and pareo beachwear made of 100% rayon fabric with various image of bob marley and the wailers. Beach sarongs with motifs of Bob marley, reggae and Rastafari movement in Jamaica. Buy jamaican rainbow colors sarongs direct from sarongs manufacturer in Bali Indonesia. If you need sarongs factory to produce rasta sarongs, contact us. We're able to supply you with various colorful rastafarian sarongs direct from us, sarongs manufacturer in Bali Indonesia.

Batik Pareo Sarongs factory from Bali CV MAYA, sarongs manufacturer in Indonesia
Visit our shop or sarongs factory in BaliPh.+6281353357458
Links to all Bob Marley sarongs from Indonesia
Bob Marley Sarongs Page 1
Bob Marley Sarongs Page 2
Links to all tie dye sarongs from Indonesia
Tie Dye Shirts from Bali Indonesia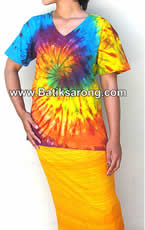 Tie dye tshirts from Bali Indonesia. Browse our catalog of colorful and vibrant hand dyed t-shirts.
Cheap batik tie dye t-shirts from Bali Indonesia.
Batik Pareo Sarongs factory from Bali CV MAYA, sarongs manufacturer in Indonesia
Visit our shop or sarongs factory in BaliPh.+6281353357458