Batik Beach Pareos Made in Indonesia by BatikSarong.Com Batik Beach Pareo Factory. Pareo and sarongs made in Indonesia by our company CV Maya. The sarong manufacturer and sarong exporter company located in Bali and Java Indonesia. Sarongs wholesaler exports worldwide. We're able to produce almost any kind of beach sarongs.
Mandala Sarongs from Bali Indonesia
Bali Sarongs | Sarongs Made in Indonesia | Beach Sarongs Company | Sarongs Factory | Sarongs Manufacturer
Monocolor Batik Mini Skirts from Java Indonesia.
Sexy beach skirts made of rayon fabric. Handbatiked in Java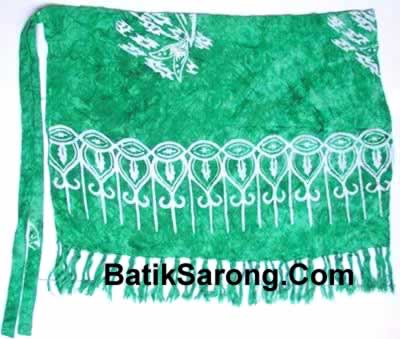 CLICK TO ENLARGE !
Batik Mini Skirt . Comes in Many Colors and Motifs
Good Quality, Cheap Price and Light Weight. Very Good for Air Freight Order.
Ladies size 40x115cm Rp 9400 or US$ 1.05 ($1=Rp9000). Price update jan 2011. Kids size : 30x115cm US$ 0.77 Exworks
Most color possible. Click here for more batik mini skirts color. The mini skirt motif (sun, palm tree, dolphin, hibiscus etc.) can be made on any mini skirts.
Batik Beachwear Code: MINI SKIRT 10
Mini sarong with sea shells motif. Click to enlarge
More Mini Skirts Half Sarongs from Bali Indonesia
Half pareo made in Indonesia
Hand Stamp Sarongs Pareo Skirts Bali
See these designs on batik fabric. Click for large collection of monocolor sarongs
BATIK SKIRTS MANUFACTURER
Fashion accessories from Bali Indonesia. Visit our Facebook page Bali Accessory and Instagram page Bali Accessory to view our latest catalog of costume jewellery and fashion accessories made in Indonesia. We have wide range of jewelry and accessories including necklaces, bracelets, rings and earrings. We also have fashion accessories such as women purses and home decorations such as dream catchers, wall decors and other Indonesian handicrafts. Visit our site www.BaliAccessory.com to place your order for our Bali Accessories. Please visit our Linktree page for Sarong Catalog or chat online using our social media. See also our latest sarong collection, Youtube Video and other important information.