Pareo and sarongs made in Indonesia by our company CV Maya. The sarong factory and sarong wholesaler company located in Bali and Java Indonesia. Sarongs supplier exports worldwide. We're able to produce almost any kind of batik sarongs.

Bali Sarongs | Sarongs Made in Indonesia | Beach Sarongs Company | Sarongs Factory | Sarongs Manufacturer
Batik Beach Skirts from by BatikSarong.Com A batik beachwear wholesale company in Java Indonesia
Our company CV MAYA, producer and exporter of cheap beachwear and batik wraps from Indonesia. If you're looking for Bali batik garment manufacturer who produce batik sarongs and batik beachwear. Contact us
Batik Beachwear Code: Mini Skirt 5
Batik Rayon Skirt. Handbatiked in Indonesia. Made with 100% rayon fabric. Export Quality.
Sample Available to Check the Quality. Made by CV MAYA, sarongs factory in Bali
We're sarongs producer and sarongs exporter company located in Bali Indonesia
Sarongs Factory in Bali Indonesia
Mini Skirts, Batik Pantaloon Beachwear, Beaded Footwear etc.
See more Pareo from Bali and Bali Accessories.
Handwoven recycled plastic tote bags from Indonesia. Woman shopping bags handmade using plastic strapping bands made from recycled plastic bottles. Kago bags or handmade tote bags and baskets. Durable and beautiful, made of various colors of recycled plastic. Fashionable handmade woven tote, made of recycled plastic. Direct from the factory in Indonesia. Produce and export woven tote bags worldwide. Especially made as multi purpose bag for every day. Made with recycled plastic by skill woven bag craftswomen of Indonesia.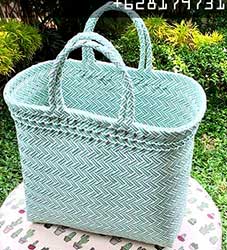 Batik sarongs Indonesia manufacturer company in Java and Bali Island. Beach sarongs made of 100% rayon textile. Batik fabric from Java Indonesia. Batik clothing and fashion products made in Indonesia. Bali garments factory and exporter company of Bali batik sarongs and pareo. Supplier and producer of Bali sarongs and Bali pareo. Cloths and Batik textile exporter in Java Indonesia. Beachwear casual wear batik and summer clothing manufacturer in Indonesia. To order our clothing and fashion products, please send Email to Us. We give response only to serious inquiry.
Batik Sarong | Beaded Purse | Bali Sarongs | Sarongs Indonesia | Sarongs Factory |

Contact Us | Pareo Bali | New Bali Sarongs