Bali Wholesale Sarongs Sarongs Site owned by CV MAYA, Sarongs Wholesale from Bali
We're sarongs wholesale company in Bali Indonesia. We ship sarongs worldwide. We're wholesale only. We supply to individuals and business. Our minimum order is US$ 300 per shipment. You're allowed to mix various sarongs in one shipment. We have wide variety of sarongs motifs. We have double process sarongs, handpainted sarongs and monocolor. Price range from the cheap sarongs until 1st grade rayon fabric sarongs. We have everything for you. Contact us now, we give quick response for serious inquiry.
Bali Sarongs wholesale. When sending us email to order our sarongs, please provide us with a complete address include phone number. Please give us also a brief info regarding your business. We'll be very happy to supply you with sarongs and other batik beachwear. We're looking for sarongs shop owners and importers around the world to distribute our sarongs. We guarantee very good price.
Batik Sarongs Wholesale from Bali Indonesia by CV MAYA
Batik manufacturer in Bali Island. Sarongs fabric factory.
Batik textile producer in Indonesia. Bali beachwear.
Back to Indonesian Handpainted Batik Sarongs Index Page

Bali Sarongs, Beaded Jewelry and Crafts Links : Links:
BALI SARONGS CATALOG
Batik Sarongs, Beachwear, Sarong Ties and Bali Beads Sandals Catalog
Mini Skirts, Batik Pantaloon Beach Wear, Beaded Footwear etc.
Place your order for our pareo from Bali on our sister site www.Pareo-Bali.com
Sarong factory in Bali Indonesia. Manufacturer and exporter company for rayon beach sarongs pareo. Wholesaler of batik sarongs with years of experience in producing sarongs for international buyers. We export all major shipping port around the world. Wide range of sarongs including silkscreen handprinting and handpainted sarongs. All sarongs made in Indonesia.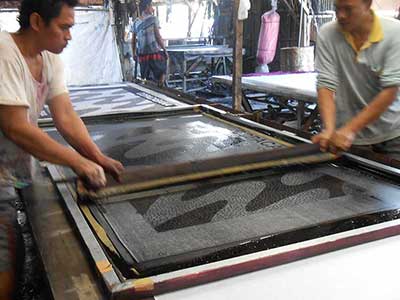 BatikSarong.Com is a batik garments manufacturer company located in Java Indonesia. Are you beach wear apparel fashion distributor looking for batik textile, batik sarongs, batik pareos, batik garment made in Java Indonesia? You've come to the right place
---
Bali Handicrafts | Bali Crafts | Sea Shell Crafts Bali | Teak Kitchenware | Bali Clothing