HOME > Tie Dye Sarongs Index
Pareos Tie Dye Bali Indonesia from Bali Indonesia by CV MAYA, a Sarongs Clothing Wholesale Company
Tie dye sarongs from Bali Indonesia. Our tye dye sarongs available in various colors.
Ph.+6281353357458 Contact us here: INQUIRY FORM for

SARONGS BALI Skype: cvmaya
Links to all tie dye sarongs from Indonesia
Tie Dye Sarongs from Bali Indonesia. Tie Dye Clothing Wholesale Links: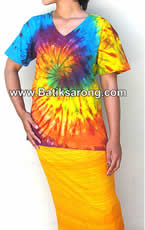 Tie dye tshirts from Bali Indonesia. Browse our catalog of colorful and vibrant hand dyed t-shirts.
Cheap batik tie dye t-shirts from Bali Indonesia.
Our Company Located in Denpasar Bali Indonesia. To place your order for our sarongs pareo, please visit our sister site www.Pareo-Bali.com and view our latest catalog of Pareo from Bali. If you need help, Call/WhatsApp: +6281353357458.
To order our sarongs pareo and other products, please contact us using online inquiry form