HOME > Printed Sarongs Index
Sarongs Bali by CV MAYA, a Sarongs Bali Company
Bali sarongs wholesale by CV MAYA, a batik sarongs company in Bali Indonesia. Producer and exporter company for sarongs and pareo made of rayon fabric textile made in Indonesia. We're bali sarongs factory and manufacturer. We export and wholesale sarongs beachwear and swimsuit known also pareo.
Sarongs from Bali Indonesia. Sarongs Wholesale. Our sarongs available in various colors. Made to order.
CV MAYA Tax id: 02.612.185.5-903.000. Visit our sarongs factory in Bali
Ph.+6281353357458 Contact us here: INQUIRY FORM for SARONGS BALI Skype: cvmaya
Links to all tropical beachwear sarongs and accessories from Indonesia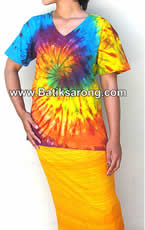 Tie dye tshirts from Bali Indonesia. Browse our catalog of colorful and vibrant hand dyed t-shirts.
Cheap batik tie dye t-shirts from Bali Indonesia.
Our Company Located in Denpasar Bali Indonesia. To place your order for our sarongs pareo, please visit our sister site www.Pareo-Bali.com and view our latest catalog of Pareo from Bali. If you need help, Call/WhatsApp: +6281353357458.
To order our sarongs pareo and other products, please contact us using online inquiry form