Beads Jewelry from Bali Indonesia. Cheap beads necklaces, factory direct price from CV Maya, a manufacturer company for beads jewelry located in Indonesia. Buying our jewelry means buying direct from factory. We're not agent, broker or trading company. We produce our own jewelry and accessories. We're able to give you very competive price for quality jewelry.
SEA SHELLS JEWELLERY INDONESIA. Beads Jewelry Made in Indonesia. Beads Necklaces from Indonesia. Handcrafted fashion accessories made in Indonesia
BALI BEADS JEWELRY. BALI BEADS ACCESSORIES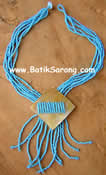 Necklace 21 Turquoise
Bali Beads Accessories
Necklace 21 Black
Bali Beads Accessories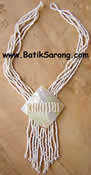 Necklace 21 Beige
Bali Beads Accessories
MORE Sea Shell Jewelry from Bali
NOTE: Clicking the link above will take you to www.Jewelryindonesia.com. This is also a Bali shell jewelry site owned by our company, CV Maya the manufacturer of Bali shell and beads jewelry in Indonesia. Combined order is possible. We're the same company.
To order our beads jewelry is easy. Simply type your order list in an email and send to us or info@jewelryindonesia.com. Please tell us your order in details. Tell us the product code, color, quantity and your complete address, together with name of international air port near you. This is for us to calculate air freight charge. If you have questions on ordering, please contact us by email or call (62 81) 7973 1022. Before sending us email, please make sure you read information below. Thank you ...
MOQ, TERMS AND CONDITIONS, SHIPPING Etc.
Minimum Order Quantity
Total order minimum US$ 300 PER SHIPMENT (Jewelry only. The US$ 300 NOT include postal cost)
Minimum per style 30 necklaces. To get wholesale price, you have to order 100 necklaces or more. Remember, mix colors possible.

Payment terms
Order must be paid in full before leaving Indonesia. A deposit 50% from total order is needed to process your order. The remaining is needed when your order completed, packed and ready to deliver OR after we have delivered your order to your cargo company's warehouse (ASK YOUR CARGO COMPANY TO CHECK YOUR ORDER & REPORT TO YOU!!).
Remember, all products made to order. We will start the production after we receive your deposit. Production may takes 2 weeks starting from the day we receive your payment.

Payment is made by transfering to our bank account, western union, credit cart visa and mastercard and paypal.
If you happened to visit our costume jewelry shop in Bali, you're welcome to pay us in cash (US$, Euro or IDR)


Shipping Charge

We sell our bali beads jewelry FOB Bali or FOB Yogyakarta. Buyer pays freight.
There're various shipping option, from courier company (DHL), airlines (China Airlines, JAL Cargo, BA World Cargo etc.), post office express airmail (EMS) to snail mail package. When you placed an order with us, we will provide you with various shipping options. You're free to decide which way the best for you. You're even free to ARRANGE SHIPPING by yourself. You're welcome to use your preferred shipping company


1) Courier company such as DHL, UPS, TNT or FedEx is the most reliable way to send your order. Door to door service. No need to deal with customs/immigration office. But they're also the most expensive. We're DHL courier account holder which means we're a registered company to DHL office in Yogyakarta.
For more info, visit their site www.DHL.com
2) Airline Cargo (port to port service)
There're many airline cargo companies such as China Airlines, British World Cargo, Japan Airline Cargo & many more. This is fast & reliable shipping option with online tracking system at cheaper price than DHL. But unlike DHL, airline cargo deliver to airport only. You have to pick up your order at the airport & deal with customs yourself. More info, visit their sites:
www.china-airlines.com/en/cargo/index.htm
www.jal.co.jp/jalcargo/index-e.htm
www.baworldcargo.com

3) EMS (Expres Air Mail Service by Indonesia Post Office)
This is express air mail service by Indonesia Post Office. Door to Door service. Almost as good as DHL but cheaper.
Tracking number available. More info visit their site: http://ems.posindonesia.co.id

4) The cheapest and also the slowest is post office snail mail package. It's post office package send by boat. It takes at least 3 weeks for the package to arrive. We have sent orders this way with no problem at all.

THE BEST WAY: ORDER NOW AND PICK UP YOUR ORDER YOURSELF !!!
Are you planning to take vacation in Bali? Order our jewelry now and pick up your order yourself when you're in Bali. We have costumers who do it this way including Mr.Cavacas from France. Hellooo for you Mr.Cavacas :-)
THIS IS BECAUSE OUR PRICE CHEAPER THAN YOU BUYING DIRECTLY FROM SHOPS ON THE STREET.
Check your order on the spot & pay only what you like. It is that simple !!
Good for you. Good for us.
Quarantee or Refund Policy
We've been exporting our jewelry worldwide to many countries. Our main goal to provide quality jewelry at reasonable price. We have many repeated costumers, who buy our jewelry regularly. Some even place a new order no later than a 3 weeks after shipment. However, we understand nothing perfect in this world. If you receive our products damaged or receive wrong items, we will send you a replacement. All at once or in several shipments along with your next order. Or if there's no other way, simply request a full refund.

Testimonials
Not convince yet to place your order with us ? Please read our costumer testimonials. Sorry, we can't provide here details of our costumers. This is only available upon request only.
Hi Ferdi.
We received and unpacked our order yesterday.
We are extremely pleased with our order the quality and packaging are excellent, well done.
this is from Mr. Neil B in UK

DEAR EDDY:
I got the order today, and everything looks good.
This is from Mr. Brown Florida 32204 USA

Dear Ferdi,
Thanks a lot for everything. we received the goods. All looks good.
It was nice doing business with you and am looking forward to order again soon.
Best Regards,
This is from Mr. Munesh K in the Caribbean

Dear Sir,
The order arrived yesterday, and on the whole I am quite satisfied.
The quality of the polish is excellent. The engraving work is excellent.
Thanks again,
This is from Mr. Jacob L of Axxxxx Imports

Hello Eddy,
Finally, I am able to contact you. Thank you for your well organized
shipment of jewellery, everything arrived very well packed and undamaged
from the freight.
.......
I will send you my new order requirements in a few hours.
Thanks.
This is from Mrs. Pat L in Canada

We have received your shipment and are very pleased. The packaging was excellent and nothing was damaged.
Thank you,
Mrs. Sally B of XXXX Bay Trading Co

Dear Sir
Thank you very much much for the delivery. Today all was coming. We are very
happy with your products!
We wish you a good New Year and all the best!
Thank you for all!
Best regards
from Mr.Kaspar M of Switzerland

Dear Sir,
How are you? Yes I got the goods. Thanks a lot. All looks good.
Thanks,
Best Regards,
Munesh (from Caribean)

THE BEST TESTIMONIAL FROM OUR BUYER IN MEXICO !!!
"I sold the order you sent in less than 2 hours"
from Mr.Eduardo G. in Cancun Mexico
Wow ! THIS IS THE BEST EMAIL FOR US !!!
THANK YOU VERY MUCH !!
There're many more. Too many to list all here.
BatikSarong.Com owned by CV Maya Tax id: 02.612.185.5-903.000. A manufacturer and exporter company for Bali Fashion Jewelry located in Indonesia. Bali jewelry made of beads combined with other natural materials such as mother of pearl shells, wooden beads, sea shells, stone, horn, bones and many more organic materials.
Please visit our Linktree page for Sarong Catalog or chat online using our social media. See also our latest sarong collection, Youtube Video and other important information.
Visit our shop in Bali !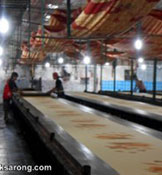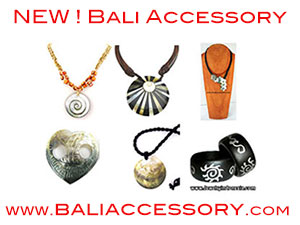 We're adding new Bali accessories regularly. Visit our sister site www.BaliAccessory.com for our latest addition of accessories and fashion jewelry made in Indonesia. Please remember that we're wholesale only. Minimum order apply. Contact us if you need more information.
More sea shell jewellery with beads.
Click mother pearl shell necklace below
Complete catalog of Bali Shell Jewellery
See Bali Sea Shell Jewelry Page 1