Sarongs from Bali by CV MAYA, a Sarongs Exporter Company
Alien sarongs from Bali Indonesia. Cosmic Sarongs Wholesale. Our Space sarongs available in various colors. Made to order. Wholesale Only.Alien Sarongs from Bali Sarongs Indonesia Cosmic Pareo

Please visit our Linktree page for Sarong Catalog or chat online using our social media. See also our latest sarong collection, Youtube Video and other important information.

alien-sarongs-bali/alien-sarongs-bali.html" />
Sarong Code: ALIEN-P1-1
Rayon sarong with Alien Print
Sarong Code: ALIEN-P1-2
Rayon sarong with Alien Print
Sarong Code: ALIEN-P1-3
Rayon sarong with Alien Print
Sarong Code: ALIEN-P1-4
Rayon sarong with Alien Print
Sarong Code: ALIEN-P1-5
Rayon sarong with Alien Print
Sarong Code: ALIEN-P1-6
Rayon sarong with Alien Print
Sarong Code: ALIEN-P1-7
Rayon sarong with Alien Print
Sarong Code: ALIEN-P1-8
Rayon sarong with Alien Print
Sarong Code: ALIEN-P1-9
Rayon sarong with Alien Print
Sarong Code: ALIEN-P1-10
Rayon sarong with Alien Print
Sarong Code: ALIEN-P1-11
Rayon sarong with Alien Print
Sarong Code: ALIEN-P1-12
Rayon sarong with Alien Print
Sarong Code: ALIEN-P1-13
Rayon sarong with Alien Print
Sarong Code: ALIEN-P1-14
Rayon sarong with Cosmic Print
Links to alien and cosmic sarongs from Indonesia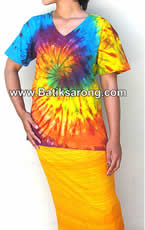 Tie dye tshirts from Bali Indonesia. Browse our catalog of colorful and vibrant hand dyed t-shirts.
Cheap batik tie dye t-shirts from Bali Indonesia.
Our Company located in Denpasar Bali Indonesia. To place your order for our sarongs pareo, please visit our sister site www.Pareo-Bali.com and view our latest catalog of Pareo from Bali. View also our catalog of Kago Bags Handwoven Recycled Plastic Tote Bags from Indonesia. Handmade shopping bags from Indonesia. Chat with us on our social media, go to Batik Sarong Linktree page.
Sarong factory in Bali Indonesia. Manufacturer and exporter company for rayon beach sarongs pareo. Wholesaler of batik sarongs with many years of experience in producing sarongs for international buyers. We export all major shipping port around the world. Wide range of sarongs including silkscreen handprinting and handpainted sarongs. All sarongs made in Indonesia.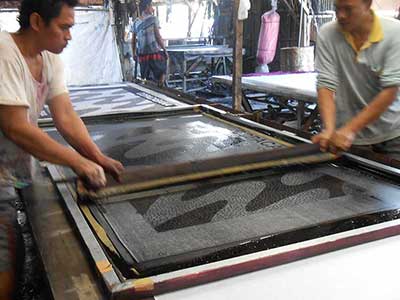 Handwoven pandanus leaf handicrafts from Indonesia. Handwoven handicrafts made of pandanus leaf. From pandanus boxes to place mats, hats to handbags, these traditional crafts are produced by skilled artisans and craftsmen and women in villages and communities throughout Indonesia. Not only are they stunningly beautiful, but they are also eco-friendly, sustainable, and support fair trade practices. Add a touch of traditional elegance to your home or business with these unique and timeless pieces. Looking for unique and sustainable home decor or accessories? Look no further than handwoven handicrafts made of pandanus leaf, sea grass, straw and coconut leafs. Crafted by skilled artisans and craftsmen and women in villages throughout Indonesia, these pieces include pandanus boxes, pandan mats, baskets, fans, hats, handbags, and even hotel sandals. These beautiful and functional items are not only eco-friendly and sustainable, but they also support fair trade practices and traditional artisan cooperation. From coasters and place mats to table runners, these pieces are perfect for adding a touch of traditional elegance to your kitchen, cafe, dining room, or restaurant. Shop now and discover the natural beauty of handwoven pandanus leaf handicrafts made in Indonesia.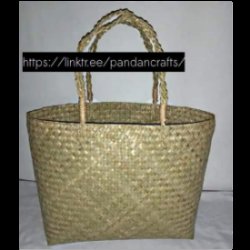 Premium quality Polynesian Sarongs from Bali Indonesia. Rayon fabric beach sarongs with tropical flowers motifs to use as beach wears & cover ups. Bright colors and soft fabric, almost as smooth as silk. Very popular in Hawaii, New Zealand, Samoa, Tonga, Fiji, French Polynesia, Cook Islands Niue, Tokelau, and Tuvalu, among others. Beach sarongs with popular flowers such as hibiscus, plumeria, tiare or orchids direct from factory in Bali and Java Indonesia. Buy bulk quantity sarongs from us and enjoy factory direct pricing.