Sarongs from Bali. Pareo and Beachwear from Bali Indonesia. An online catalog owned by CV Maya
Batik beachwear made in Indonesia. Buy samples to check our sarongs quality.
Send US$ 75 to Receive our Sarong Sample Package
PHOTOS CAN'T TELL YOU THE SARONG QUALITY !!!
The quality and price of beachwear depends on various factors such as:
Rayon fabric quality (amount of tread)
Rayon fabric length and width
Dyes or color of the fabric
Design or motif of the sarongs
Softness of the fabric
You can't tell the quality of sarongs or pareo beachwear from seeing photos or pictures.
You need samples so you can see and touch yourself.

The cost of samples is US$ 75, shipping by DHL Express, Post Office EMS Express mail or other similar express mail services included already
You will receive the samples within 5 days (some countries may takes longer)

SAMPLE PACKAGE CONTAINS 5 to 10pcs of DIFFERENT SARONGS
THE HIGHER THE DELIVERY CHARGE COST YOU, THE LESS YOU WILL RECEIVE THE SARONG !
Example: Buyer from Singapore will receive 10pcs, while buyer from USA will receive 5pcs, since Singapore closer (cheaper delivery charge) to Bali.

Please send your payment for our sarongs pareo beachwear samples by Western Union or Paypal

After you made transfer please provide us the Money Transfer Control Number, sender's name, address & phone number (THIS IS IMPORTANT!)
Sheer Cardigans Factory Bali Indonesia. Summer Cardigan Sweaters from Bali Indonesia. Sheer Shrug Factory. Lightweight Knitting Cardigans Made in Indonesia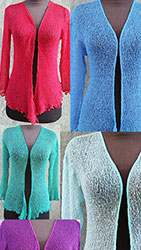 Plus size ruffle shrug with sheer and elastic fabric. Wide range of colours available. Use your own brand. Buy direct from factory in Bali Indonesia. Bolero wholesale. Tie-front shrug for women. Summer clothing. Wholesale only, factory direct. To order, send us email. Fill our inquiry form or send email directly to our Gmail address. See photo for our email address. We need to know your order quantity to calculate shipping. We also need to know your shipping port. Door to door shipment by express courier or post office also available.
Premium quality Polynesian Sarongs from Bali Indonesia. Rayon fabric beach sarongs with tropical flowers motifs to use as beach wears & cover ups. Bright colors and soft fabric, almost as smooth as silk. Very popular in Hawaii, New Zealand, Samoa, Tonga, Fiji, French Polynesia, Cook Islands Niue, Tokelau, and Tuvalu, among others. Beach sarongs with popular flowers such as hibiscus, plumeria, tiare or orchids direct from factory in Bali and Java Indonesia. Buy bulk quantity sarongs from us and enjoy factory direct pricing.
Need help on ordering our sarongs pareo and beachwear ? Email to Us
BACK TO BATIK SARONG COM HOME PAGE
BatikSarong.Com owned by CV Maya. A manufacturer and exporter company for batik beach sarongs located in Indonesia. Beachwear and sarongs made of rayon fabric with batik motifs. All made in Indonesia. Good quality reasonable price, direct from the pareo factory.
Please visit our Linktree page for Sarong Catalog or chat online using our social media. See also our latest sarong collection, Youtube Video and other important information.
Visiting Bali Indonesia? visit our showroom in Denpasar
Visit our shop in Bali !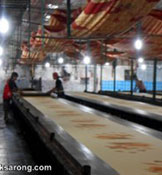 Buy ready stock of sarongs and fashion accessories. No need to wait for weeks!
Batik Sarong | Beaded Purse | Bali Sarongs | Sarongs Indonesia | Sarongs Factory | Contact Us | New Bali Sarongs