Cheap Bali Beads Sandals Direct from Bali Beaded Sandal Factory
by BatikSarong.Com Bali Beads Footwear Company
Bali beads sandals . Bali sandals code SP9-1 to SP9-119. To view this bali beads sandals collection, you must download our bali beaded sandals e-catalogs. Bali sandal catalog in two zip files. Both files contains total of 119 bali beads sandal photos.

Quality Bali Beaded Sandals
ExWorks Denpasar Bali Price (Shipping cost not included)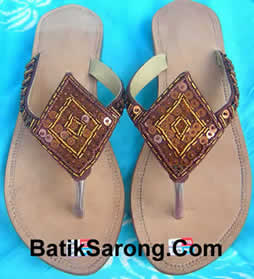 Download the Bali Beads Sandals Here:
Bali Beads Sandals Catalog 1 . Bali Beads Sandal Catalog 2
Right click the link & click "SAVE TARGET AS . . ."
Email to Us if you have problem downloading our
cheap bali beaded sandal catalog
Beads Sandals Slippers Footwear Made in Indonesia Links:
Hand Painted Batik Bed Covers from Bali Indonesia
Batik Bed Covers from Bali Indonesia
Bali Batik Bedding Linen Batik Bed Sheets
This is quality beads footwear we sell at cheap price. To check the quality ask for samples.
Once you receive the samples, notice the softness of the upper sole of our sandals, padding, cuts and join. The most important is the wear test. Compare the comfort of wear of our sandals with sandals from other company that may be more expensive.
How to order our sandals:
Download the catalog. There're 2 catalogs. To download, click the link above (below the image)
Type in an email the sandal number, size & quantity desired then send to us using our inquiry form
We will reply your email with proforma invoice which include shipping cost, delivery time &
bank info for you to make a deposit
Minimum Order

Total order minimum US$ 150 PER SHIPMENT (bali beads sandals on this page only. The US$ 150 NOT include postal cost)
Minimum per style 5 pairs (mix size possible e.g size 41 3pairs, size 42 2pairs)

Payment terms

Order must be paid in full before leaving Indonesia. Remember, all products made to order. We will start the production after we receive your payment. Production may takes 2 weeks starting from the day we receive your payment.

Shipping Charge

We sell our bali beads sandals FOB Bali or FOB Yogyakarta. Buyer pays freight.
There're various shipping option, from courier company (DHL), airlines (China Airlines, JAL Cargo, BA World Cargo etc.), post office express airmail (EMS) to snail mail package.
When you placed an order with us, we will provide you with various shipping options. You're free to decide which way the best for you. You're even free to ARRANGE SHIPPING by yourself. You're welcome to use your preferred shipping company
1) Courier company such as DHL, UPS, TNT or FedEx is the most reliable way to send your order. Door to door service. No need to deal with customs/immigration office. But they're also the most expensive. We're DHL courier account holder which means we're a registered company to DHL office in Yogyakarta.
For more info, visit their site www.DHL.com
2) Airline Cargo (port to port service)
There're many airline cargo companies such as China Airlines, British World Cargo, Japan Airline Cargo & many more. This is fast & reliable shipping option with online tracking system at cheaper price than DHL. But unlike DHL, airline cargo deliver to airport only. You have to pick up your order at the airport & deal with customs yourself. More info, visit their sites:
www.china-airlines.com/en/cargo/index.htm
www.jal.co.jp/jalcargo/index-e.htm
www.baworldcargo.com

3) EMS (Expres Air Mail Service by Indonesia Post Office)
This is express air mail service by Indonesia Post Office. Door to Door service. Almost as good as DHL but cheaper.
Tracking number available. More info visit their site: http://ems.posindonesia.co.id

4) The cheapest and also the slowest is post office snail mail package. It's post office package send by boat. It takes at least 3 weeks for the package to arrive. We have sent orders this way with no problem at all.

Size Chart for our beads sandals
Packaging

One pair of sandals in a plastic bag and one silica bag inside with "Made in Indonesia" sticker under the sole. For custom purpose, this sticker is a must. You can easily peel off this sticker. We use carton boxes as master box, wrapped with water resistant plastic bag as outer layer. You won't see our company's name on any of our products or packaging. Everything is made exclusively for you!

Branding

We can attach/stitch/stick label onto the sandals on your name. Label available from embroidery and screen print ribbon labels. There is additional cost just for label making cost, attaching and stitching onto the sandals are free of charge. This may delay the production. BARCODE AVAILABLE! (in various standards such as EAN 13, 128 etc.)
Sandals Slippers Keywords:
Footwear Wholesaler
Sandals Suppliers Made in Indonesia
Slippers Traders from Bali
Mens Shoes Company
EVA Slippers Suppliers
Mens Slippers Companies
Childrens Slippers Producer
Ladies Slippers Web Site
PVC Slippers Online
Men's Slippers Factories
EVA Shoes Distributor
Beach Sandal Exporters
Slippers Manufacturers
Indonesian Beaded Footwear Manufacturer Company.
Even more Bali Sandals. Click below
View Bali sandals and slippers
Batik Sarong | Beaded Purse | Bali Sarongs | Sarongs Indonesia | Sarongs Factory | Contact Us | Pareo Bali | New Bali Sarongs
Natural Gift Boxes | Teak Wood Furniture | Natural Photo Album | Bamboo Ducks | Dreamcatchers | Wood Body Jewelry