Sea Shell Necklaces from Indonesia
Handmade Bali Beaded Necklaces with Sea Shells.
by BatikSarong.Com Bali Fashion Accessories Manufacturer

Beads jewelry made in Indonesia. Beads necklace with pearl shells. To order our beads necklaces jewelry, send Email to Us. Tell us the product code, quantity wanted and color. Don't forget to include your complete address. All jewelry and accessories on this site are made to order only. If you place an order for our jewellery and accessory, we have to make it first. Production time takes at least two weeks. Price for our products based on FOB Bali. Buyer pays freight.
Necklace Code: NP22-7 White
Beads Necklace with Sea shells. Bali beads necklaces and jewelry.
Sea shell jewelry made in Indonesia
This beads and sea shells necklace available in various colors such as red, brown, black, blue, white, pink, aqua etc. To order this necklace in pink beads, state "NP22-7 PINK". To order this necklace in black beads, state "NP22-7 BLACK" and so on... Please remember to state your selection clearly when you order our beaded necklaces jewelry made in Indonesia. More info on ordering our beads necklaces, Email to Us
Necklace NP22-7 in various colors, beige, black, green and red beads. Beads Necklace with Sea shells. Bali beads necklaces and jewelry. Sea shell jewelry made in Indonesia. Please tell us your prefered color when ordering this seashells necklaces.
Links to all jewelry pages on page 22 catalog:
Go Back to Sea shell and Beads Necklaces Catalog Page 22
Sheer Cardigans Factory Bali Indonesia. Summer Cardigan Sweaters from Bali Indonesia. Sheer Shrug Factory. Lightweight Knitting Cardigans Made in Indonesia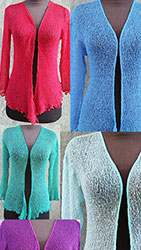 Plus size ruffle shrug with sheer and elastic fabric. Wide range of colours available. Use your own brand. Buy direct from factory in Bali Indonesia. Bolero wholesale. Tie-front shrug for women. Summer clothing. Wholesale only, factory direct. To order, send us email. Fill our inquiry form or send email directly to our Gmail address. See photo for our email address. We need to know your order quantity to calculate shipping. We also need to know your shipping port. Door to door shipment by express courier or post office also available.
Bali batiks fabrics from batik factory in Indonesia. Buy batik fabrics quilting direct from batik factory in Java Indonesia. Handmade batik quilt kits fat quarters, layer cake stacks, jelly roll strips and charm squares. Java batiks fabrics hand dyed in batik factory in Java Indonesia. We produce and export batik fabrics by yards, fat quarter bundles and precut fabrics. If you need batik textile direct from factory in Indonesia. Please contact us. View our wide range of cotton batik fabrics handmade in Bali and Java Indonesia.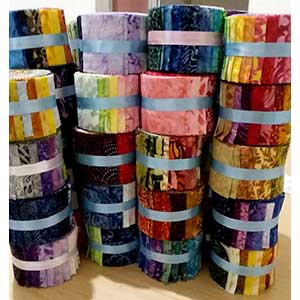 Handwoven recycled plastic tote bags from Indonesia. Woman shopping bags handmade using plastic strapping bands made from recycled plastic bottles. Kago bags or handmade tote bags and baskets. Durable and beautiful, made of various colors of recycled plastic. Fashionable handmade woven tote, made of recycled plastic. Direct from the factory in Indonesia. Produce and export woven tote bags worldwide. Especially made as multi purpose bag for every day. Made with recycled plastic by skill woven bag craftswomen of Indonesia.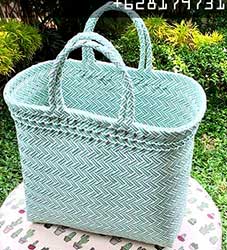 Batik Sarong | Beaded Purse | Bali Sarongs | Sarongs Indonesia | Sarongs Factory | Contact Us | New Bali Sarongs
---
Bali Handicrafts | Bali Fashion Necklaces | Bali Furniture | Sea Shells Feather Accessories | Clothing from Bali