Sarong beachwear made of rayon fabric from Indonesia by CV MAYA, a sarongs manufacturer located in Bali Indonesia. We're sarongs producer and exporter company with sarongs shop located near Kuta Denpasar Bali. If you're searching for sarongs wholesaler and exporter company from Indonesia, we're the right choice for you.
Any kind of sarongs available here. Silkscreen printed, monocolor, to hand painted sarongs. Other type of sarongs also available including the plain color sarongs, embroidered sarongs and even seashells sarongs. This is beach sarongs with cowry shells fringes. All made of 100% rayon textile made in Indonesia produced by CV MAYA, sarongs supplier from Bali.
Please browse our sarongs site and you will find a lot of sarongs in different motifs and styles. If you need sarongs other kind of sarongs that not available here, please contact us. We'll make it for you. We'll provide you with reasonable price. We even challenge you to prove that you will get lower price from other sarong companies in Bali or sarongs companies in Indonesia. We'll give you lower or same price to other sarongs wholesaler.
Contact our company now, we'll provide you with pricing. Ph/Fax (62-361) 488 721 Mobile 081 7973 1022. Don't takes our words, proof it. Asks for some samples of our sarongs and see for yourself. Email us and tell which sarongs that you need as samples. We need to know the sarong product code, color and quantity.
Handpainted Sarongs from Indonesia. Available in various colors.
Made to order.

Sarong Code: HP5-7-White
Handpainted Sarongs from Bali Indonesia
Our Company Located in Denpasar Bali Indonesia. To place your order for our sarongs pareo, please visit our sister site www.Pareo-Bali.com and view our latest catalog of Pareo from Bali. If you need help, Call/WhatsApp: +6281353357458.
Sarong factory in Bali Indonesia. Manufacturer and exporter company for rayon beach sarongs pareo. Wholesaler of batik sarongs with years of experience in producing sarongs for international buyers. We export all major shipping port around the world. Wide range of sarongs including silkscreen handprinting and handpainted sarongs. All sarongs made in Indonesia.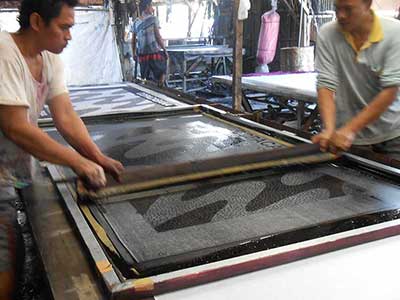 Visit our web site pareo-bali.com to place your order for our sarongs. Visit and place your order.